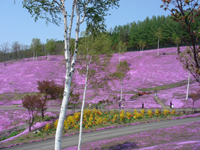 Have you ever seen anything like this?

The start of spring, after a long mean winter, pink moss (called "shiba-sakura" in Japanese which means "lawn cherry blossom") starts to bloom everywhere in Hokkaido. Takinoue town is known for "hill of pink moss" because the surface of hill is covered by pink and purple for a month.

Pink and purple definitely make people happy. Walking around the hill is a quite exercise but you get great rewards, nice view, sweet smell, and happiness.
(http://www.asahikawa-tourism.com/takinoue.html)


The best day trip from Asahikawa during May ispink moss in Takinoue town, Port Monbetsu for fresh seafood lunch, and tulip park in Yubetsu (formaly known as Kami-Yubetsu) town.



It is just beautiful. Non-tulip lovers will turn into tulip fanatics. They really do a great job to make tulips look great, too.
(http://www.asahikawa-tourism.com/kamiyubetsu.html)

Tour info:
May 8 ~ 30, 2010
(Tours are only on Tuesdays, Thursdays, Saturdays, and Sundays)
Self tour (no guide)

Pick up from:
JR Asahikawa Station, major hotels, JR Kamikawa Station, etc

Pick up time:
8:20

Duration of the tour:
About 6 hours

Price:
6500 yen per person
(includes admissions for pink moss and tulip park 1000yen value)

The tour price does not include lunch.
Tour bus stops at Okhotsk Palace hotel in Monbetsu for lunch break.
The hotel provides lunch buffet for 1200yen.
There are many restaurants in/around Okhotsk Palace hotel.
You can go for convenience, lunch buffet or for adventure some restaurants.
What we do:
We will book the tour for you in advance.
Walk you to pick up location on the tour date.
For more information, please email us at
info@asahikawa-tourism.com